Projects
Restoration work on the Palazzina Torlonia commissioned by the Superintendency of the City Council is aimed at transforming it into a documentary didactic museum. The variety of the architectural composition of the buildings in the area, coupled with the modern concept of adapting historic sites for use as museums, has led to the elaboration of a detailed plan to turn the entire area into a vast open-air museum complete with areas suitable for mounting exhibitions and others in which the site's natural pre-disposition to stage cultural and didactic activities can fully exploited.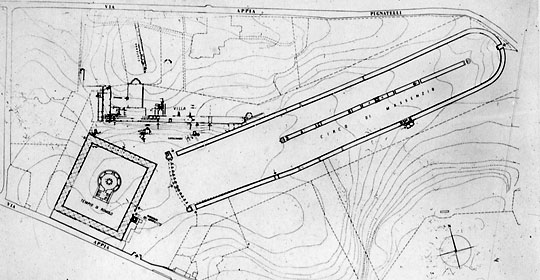 Once work has been completed, the implementation of plans already in place will be given priority, setting up visitor trails that take into account both the original structure of the complex and the influence brought to bear by the Emperor on various structures in the circus area that contributed to many of the scenic aspects of the entire local landscape. Particular attention will be paid to the natural fauna and flora that have contributed to the Villa of Maxentius' standing as a natural haven within the Archaeological Park of the via Appia Antica.
Knowing that at some future date the archaeological aera would be opened to the general public, it was as long ago as the 70s that the City Council approved a restoration project that would allow the Park to be accessed from both the Appia Antica and by means of a link road the Appia Pignatelli too. That same project included sorting out the land in the area around the triumphal arch and, by demolishing a small wall adjacent to it, creating the opportunity to restore an 18th century gate nearby. Today, since the acquisition of the Vale of the Caffarella and its monuments, the need to restore the original relationship between the two monumental areas is becoming increasingly apparent. Other work that needs to be done includes the re-establishment of the precinct in which Herod Atticus' Pago Triopio was located, as the rest of the area concerned was once an integral part of it. The ancient roads that were effectively the major routes used to reach the circus and the Imperial palace also require restoration.
As part of the revaluation and re qualification of the Maxentius complex, studies are once again underway in the area around the palace that was excavated in the 60s to identify all the different buildings it contains and define its north-eastern boundaries.